graphic ℅ of Julep
******
October is almost over people.
Isn't this crazy? I swear it was September yesterday, but fall is swinging into high gear. While the weather's fickle temperatures make it so that "fall" isn't quite in Texas yet, my nails are now sporting fall colors. Julep has put together the best graphic for figuring out your fall color. Do you love bright pinks in the summer? Try Julep's
clara
, an opaque peach to go with the darker fall tones. If you're one to gravitate towards bright reds, stick to a
darker hue
for fall. Even though there are so many wonderful fall colors to choose from, my favorite had to be
Roc Solid
, a darker emerald hue. Emerald isn't the go-to fall color for most people, but I think it's a great alternative to a traditional color and it goes surprisingly well with virtually any color! I put together a little outfit with emerald, with my new favorite nail polish of course. Who wouldn't feel ready for cooler temps and the holidays in this look?
I now challenge you to put together something like this with your favorite fall color from the graphic! If you do, please leave a link in the comment section below so I can check it out! You can also shop all Julep nail polish
here
!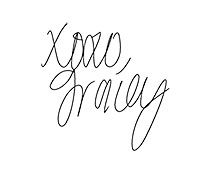 I was asked to write this post by Julep, a brand I use and love. Thank you to everyone who supports Stripes & Peonies!